Ice Queen
Born with the power to create Ice and Snow, our popular Ice Queen is Independent, Strong and incredibly brave. This Queen is sure to wow you with her powerful presence.
Ice Princess
Daring and graceful, our Ice Princess's playful personality is sure to captivate each and every child. Why not book her alongside her ice sister for the most ice-tastic adventure!
Cinderella
Courageous and kind, Cinderella is always hopeful. She followed her dreams to escape her life of drudgery and bullying from her wicked step-mother and step-sisters. Thanks to her Fairy Godmother, her dreams came true. Let this classic princess enchant you at your next royal ball!
Mermaid Princess
Passionate and inquisitive, this high-spirited mermaid will enchant you with stories of her world under the sea. She's always dreamed of being human and now that she can walk on land, she can't wait to dance and twirl at your next party.
Rapunzel
The girl with the magical golden hair. This adventurous, free-spirited princess with a love of painting, cooking, reading, candle making and of course brushing her gorgeous long hair is looking forward to making your daughter's birthday the BEST DAY EVER!
Sleeping Princess
Cursed as a baby by an evil sorceress she was hidden away under the protection of her 3 fairy godmothers. The curse was later broken by true loves kiss and then her and her prince lived happily ever after. This classic princess is sure to enchant you with her grace and elegance at any special occasion.
Princess Beauty
This princess is not only beautiful, she is intelligent, assertive and compassionate too. With a love of storybooks, this gorgeous princess is sure to delight you with her storytelling, beauty and charm.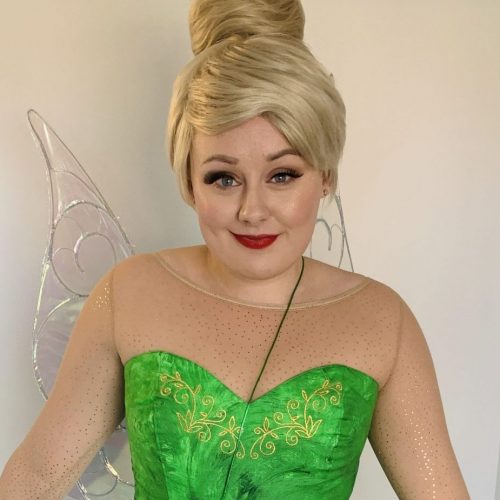 Tink Fairy
She's small, kind and can sometimes be prone to temper tantrums... but don't let that fool you! This fairy's heart is in the right place and she's sure to bring that spark to your child's adventure!
Practically Perfect Nanny
She is supercalifragilisticexpialidocious! The practically perfect addition to any party or special occasion! She will impress you with imaginative stories of her adventures with the Banks children whilst always having a cheery disposition, rosy cheeks and a merry tune to sing!