All of our performers are hand-picked for their acting ability, singing training and for the excellent rapport that they are able to create with children insuring that the experience that you receive is truly magical and believable for your child.
Please scroll down to learn all about our wonderful team of performers!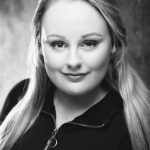 LEAH
Leah landed her first professional acting job at 17 in a touring production playing Cinderella in Cinders The New Musical. Since then she has been in several theatre productions in lead roles like Alice in Alice in Wonderland, Jill in Jack and the Beanstalk, Cinderella in Cinderella, Helena in Midsummer Nights Dream, Kaa in The Jungle Book to name a few.
She started acting, singing and dancing as a child competing in several singing and dance competitions including appearing on the Disney Channel and coming first in the best Dancer Category when she was 12 years old.
"My favourite princess does change but I have to say that The Little Mermaid is always the one I come back to! She is so playful and imaginative and she is just so much fun to play and her long red hair is just beautiful!"
Main Character(s) that Leah plays: Ice Queen & The Little Mermaid & Rapunzel
Other Characters: Princess Beauty, Cinderella, Sleeping Princess, Mary Poppins
MOLLY
Molly studied Drama at South Downs College and has performed in various local musicals such as Joseph and his Technicolor Dreamcoat and 'Oh What A Lovely War!'.
She went on to study English at the University of Southampton whilst working as an actress and model alongside her degree.
She has worked for HBO's Game Of Thrones as a live performer and worked in feature films such as 'Solo: A Star Wars Story' and 'Suffragette'.
'I love working with Princess Party Entertainment and friends! There is nothing that beats the look on the birthday boy or girls face when their favourite character walks into the room, their excitement is infectious. It's a pleasure and privilege to be a part of their magical experience. My favourite princess to play is definitely the Ice Princess. Her personality is joyful, excited and playful - and I get to be silly with the kids. A dream!'
RHIANNON
Rhiannon studied Musical Theatre at Southdown's College where she performed in shows such as legally blonde and Chicago. She then went on to study Acting at The University of Chichester.
She has had dance lessons from a young age - specifically in Tap and Ballet - she has also had private singing lessons from the age of 13 and has competed in several singing competitions and festivals.
"I love working with Princess Party Entertainment and Friends! Not only is it something I enjoy but it's also very rewarding. My favourite princess to play would be the Ice Princess as the character is young and because of this I get to interact with the children on their level which is great!"
Main Character(s) that Rhiannon plays: Ice Princess & Princess Beauty.
Other Characters: Snow White, Cinderella, Mermaid Princess, Sleeping Princess
AARON
Aaron trained at the School of Creative Arts; Blackpool and the Fylde College. He has worked professionally on a number of UK Tours including shows such as The Jungle Book, Wuthering Heights, The Adventures of Sherlock Holmes and Jane Eyre. He's also played King Rat in Dick Whittington and is due to reprise his role!
Aaron first started acting when he played "Scrooge" in A Christmas Carol at school and has had a passion for performing ever since.
"I love the fact that I can bring joy to children as soon as I walk through the door! Their happiness and excitement can brighten up your day!"
Main Character(s) that Aaron plays: Our Great Showman and Bat Hero
Leah was absolutely brilliant at my son's party. There was 60+ children and she did an amazing job keeping them all engaged and entertained. She had a wonderful singing voice and a perfect princess face so I'd highly recommend using her. I'd rate her more than 5* if I could x
Wonderful .. Does such a fab job & was a massive hit at my little girls princess party would highly recommend , will do every thing to make every little girls wish come true deserves more than 5 * please book you won't be disappointed xx we have defiantly recommend to friends xxx
We booked to have Alice as we themed our daughter's party "down the rabbit hole" the children loved her, she was very engaging with them all :) I would highly recommend and definitely book again. Many thanks X